Getting to know the team from Off The Beaten Track
You may have received an email from us, met us at a tradeshow, or read one of our blog posts but who are the team that help you to get Off The Beaten Track?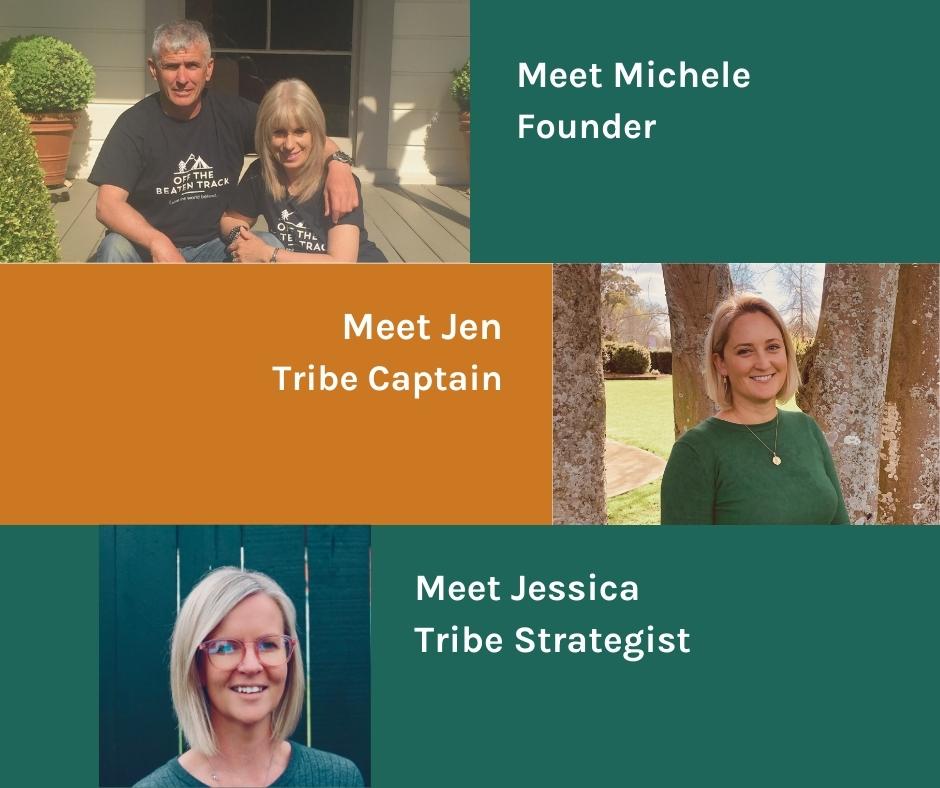 Meet the team behind Off The Beaten Track, what we love about nature and the outdoors, and why we're on a mission to support you kiwis find the ideal rural accommodation experience in Aotearoa New Zealand.
Meet Michele
Michele, along with her husband Roy, stand as the visionary force behind Off The Beaten Track. As owners of a Waikato dairy farm with an unwavering commitment to seeking out new opportunities in the rural sector, inspired the birth of this incredible venture.
Michele and Roy are proud parents of three adult sons who are all involved in the agriculture industry.
Michele has a rich portfolio of entrepreneurship, boasting multiple award-winning independent businesses spanning retail, the service industry, and currently with event management company Classic Events.
The addition of an online agri-tourism endeavour to her repertoire brought an exciting challenge, one intimately connected to her profound appreciation for rural life.
Michele is delighted to see the seed of their idea blossoming into the Off the Beaten Track platform which now offers extraordinary opportunities for kiwi family holidays. Additionally, it aims to provide farming communities with stable income avenues, acting as a reliable buffer during the frequent uncertainty faced by the rural economy.
Michele's journey embodies a steadfast dedication to the well-being of New Zealand's rural heartland.
Michele leads the strategic direction of Off The Beaten Track but also loves getting out and meeting rural property owners.
Meet Jen
Jen is a former Auckland corporate turned rural enthusiast. She embarked on a unique journey by marrying a dairy farmer, trading city life for the serene landscapes of Otautau in New Zealand's South. Seven years on her in-laws' dairy farm, along came three farm kids and a trusty black labrador.
Jen & her husband then made their way north, settling in picturesque Cambridge in the Mighty Waikato, where they manage a dairy sheep farm with a few horses and dry stock thrown in for good measure. To complete the family, this year welcomed Daisy, a charming but decidedly impractical white fluffy dog who firmly believes she's a farm pup.
Jen embodies the spirit of Off The Beaten Track, relishing the opportunity to explore New Zealand's hidden gems. If there's a nearby bushwalk, you can bet Jen will be there, reveling in the tranquility of nature.
Jen leads the day-to-day Off the Beaten Track activities supporting both holidaymakers and our landowners with bookings, listings, and support queries.
Meet Jessica
Jessica was born in London and raised on the wild west coast of Raglan. She is a tourism and events alumni, having spent the last 19 years working in the sector, most recently with Tourism New Zealand. She spent 7 years living in Auckland before moving back to the Mighty Waikato in 2020.
She is an avid lover of the beach and holidays spent relaxing in nature. She has a burmese cat named Peta, sells plants as a side hobby, and now resides in Hawkes Bay, commuting regularly to the Waikato. Away from Off The Beaten Track, she is a sustainability advocate and supports the tourism sector on its journey to thrive responsibly.
Jessica is our marketing strategy lead for OTBT. She oversees the marketing, creative, and has recently led our Hubspot digital marketing transition.
---
Now that you know a bit about us, we'd love to hear from you! Whether you need assistance with a booking or finding a property, or whether you need help listing your own property, please don't hesitate to contact us.
You can call, email, or use our Contact Us form and we will get back to you as soon as we are able to.
We hope you will enjoy an Off The Beaten Track experience soon 👣
Michele, Jen, Jessica, and the team at Off The Beaten Track