Glamping Review: Luxury Waterfall Glamping
Waterfall Mountain, Bay of Plenty: When 'the world's worst camper' goes glamping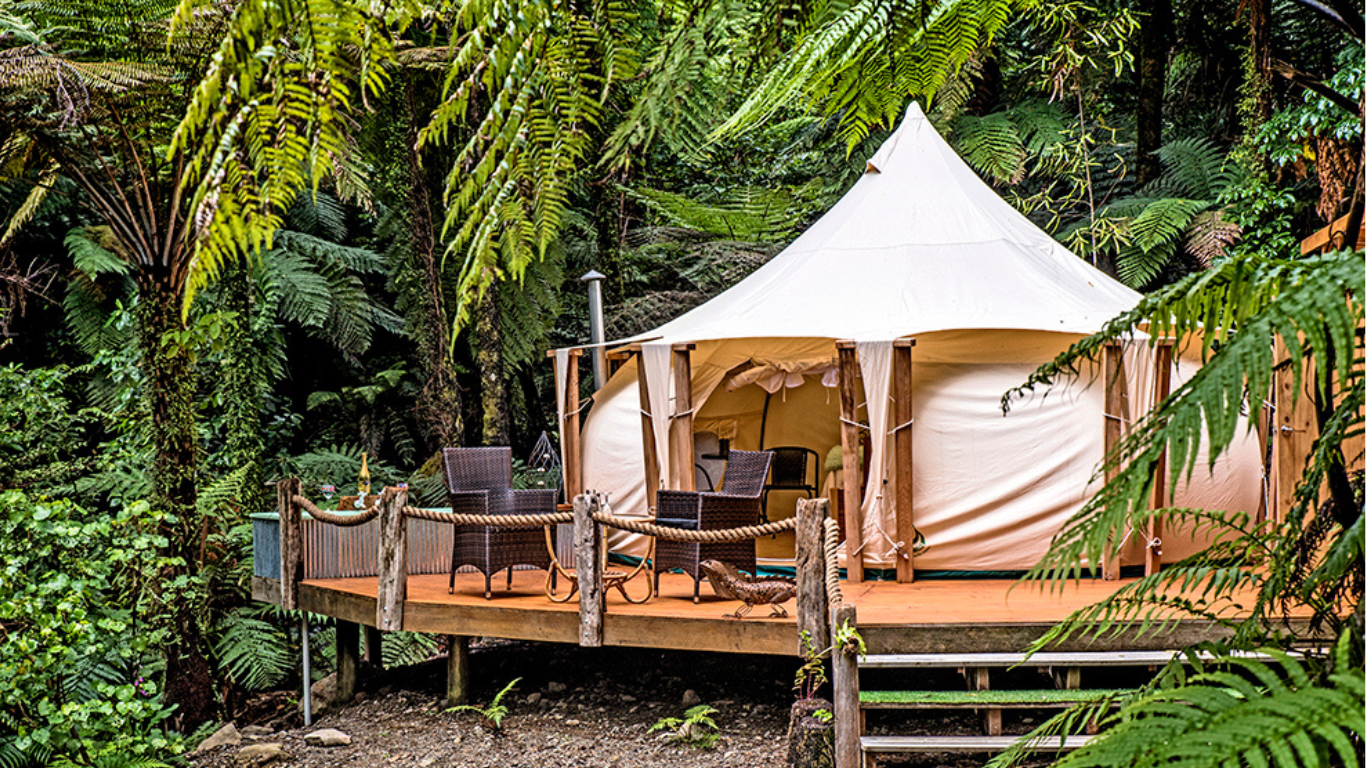 Glamping is a fusion of glamour and camping. Perfect for those wanting to enjoy a bit of luxury while still enjoying that camping experience. However, it is so much more than just a nice tent to stay in.
To demystify glamping, we invited the 'world's worst camper' Deb Griffiths, Stuff Travel Reporter to try out one of our favourite spots, Luxury Waterfall & Native Bush Glamping
Located in Ōpōtiki in the sunny Bay of Plenty, Deb got a true taste of her first off-grid experience with no cell coverage, no electricity, and no internet.
"Well, you were a little optimistic."
My partner raises his eyebrows as he unpacks my phone charging cable. I admit to being a tad naive. I am, after all, "the world's worst camper".
At Waterfall Mountain glampsite, there are no power points. There's no cell phone reception and no internet. We are genuinely off the grid and out of my comfort zone - even though we are a mere 13 kilometres from the bustling eastern Bay of Plenty town of Ōpōtiki.
It appeals to novice campers by providing the comforts of a queen bed, running hot water and the undeniable charm of sleeping in a lotus belle tent in the midst of native New Zealand bush.
Our host, Sonia laughingly claims to have stolen land off her good friend, Mac, to set up the glampsite. He doesn't seem to mind. They're both there to meet us on a drizzly Sunday afternoon.
The glampsite sits next to a stream that cascades down a hill creating a series of small waterfalls. The smell of wood smoke greets us. Up on the wooden deck sit two chairs, a table and an outside bath. The kitchen and bathroom are two separate rooms off to the side. When we unzip the tent we're enchanted to find a bed complete with beautiful linen, extra blankets, lanterns and another dining set with board games and books.
This is more than somewhere to spend a night. This is indeed a unique memory in our rural heartland as founder of Off The Beaten Track, Michele Connell, had in mind when she and her husband created the online booking platform.
Luxury Waterfall & Native Bush Glamping
"It's the experience and the land that's the holiday," she says. "Kiwis are really keen to travel like this."
Read more of Deb's glamping experience here:
https://www.stuff.co.nz/travel/experiences/camping-holidays/125060926/waterfall-mountain-bay-of-plenty-when-the-worlds-worst-camper
Luxury Waterfall & Native Bush Glamping is available for seasonal bookings from October through to May. This glamping spot is in high demand so we encourage you to book early. Prices start from NZD $250 per night (for 2 people).